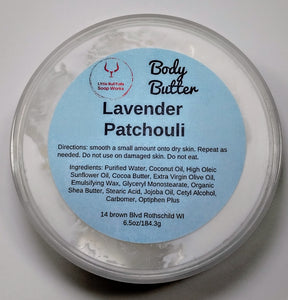 Lavender Patchouli Body Butter
Lavender patchouli body butter is a luxurious and nourishing skin care product that combines the calming scent of lavender with the warm and grounding scent of patchouli. This body butter is rich in natural ingredients, such as shea butter, coconut oil, and jojoba oil, that deeply moisturize and nourish the skin, leaving it soft, smooth, and radiant. The lavender provides a soothing and relaxing aroma, while the patchouli adds a touch of earthy richness that helps to soothe and calm the senses. This body butter is perfect for those who love natural and indulgent skin care products and are looking for something that is both nourishing and aromatherapeutic.
Turn your skin from dry & itchy to soft & smooth! Our handmade body butter is rich and highly moisturizing! 6.5oz net weight in recyclable containers.
ingredients:
Purified Water
Coconut Oil
High Oleic Sunflower Oil
Cocoa Butter
Extra Virgin Olive Oil
Emulsifying Wax
Glyceryl Monostearate
Organic Shea Butter
Stearic Acid
Jojoba Oil
Cetyl Alcohol
Carbomer
Optiphen Plus