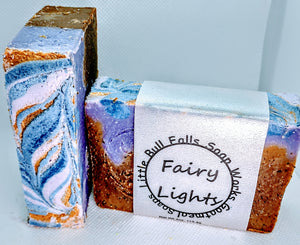 Fairy Lights Goat Milk Soap
 Fairy Soaps!
Joyful indulgence! This scent is an unexpected fantasy floral with a high-end perfume character. You will absolutely feel indulged with this fragrance!
Pear, agave, marine, cherry blossom, rose powder, dark musk & amber blend together to create that magic you missing in your nights!
 There are so many soaps & body washes on the market – do you know what makes us special?
We only use food-grade organic oils & butters
Skin-softening & nourishing goat milk
Skin-soothing & exfoliating oatmeal
Hand poured in small batches
Fresh & wholesome ingredients
Fully cured soap = long-lasting
If you have dry or sensitive skin, you need to give us a try!
Ingredients: Organic olive oil, goat milk, organic coconut oil, organic & sustainable palm oil, sodium hydroxide, oatmeal, titanium dioxide, mica, fragrance.
4oz bar