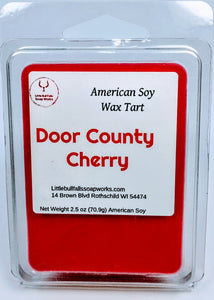 Door County Cherry Soy Wax Melt
Like our candles, our soy wax tart melts are made from soy wax that is made from soybeans that are grown right here in the Midwest of the United States. American soy wax!
If you haven't been to Door County, Wisconsin, you need to go! It is considered to be the Midwest's version of Cape Cod. Lighthouses, beaches, wineries, and cherry blossoms is what it means to me!

This soap is my rendition of those orchard-fresh juicy cherries! This soap smells like dark, rich, juicy fresh cherries.

This customer favorite is enjoyed by both men & women of all ages. I consider this to be one of my signature soaps & feel like we got the scent spot-on. Please check out our Door County Candles!