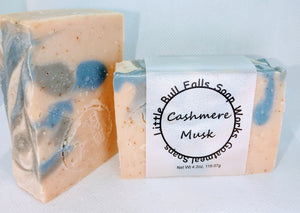 Cashmere Musk Goat Milk Soap
With its calming natural aroma, this fragrance adds comfort & elegance to everyday spaces without being overwhelming. A definite mood-booster for those days you are feeling blah.
Bergamot, saffron, lily of the valley, amber, violet, dark musk & powder combine to make this peaceful scent! Men love this one!
 There are so many soaps & body washes on the market – do you know what makes us special?
We only use food-grade organic oils & butters
Skin-softening & nourishing farm raised goat milk
Skin-soothing & exfoliating hand ground oatmeal
Hand poured in small batches
Fresh & wholesome ingredients
Fully cured soap = long-lasting
eco-friendly & biodegradable
handmade from scratch in Wisconsin
If you have dry or sensitive skin, you need to give us a try!
Ingredients: Organic olive oil, goat milk, organic coconut oil, organic & sustainable palm oil, sodium hydroxide, oatmeal, titanium dioxide, mica, fragrance.
4oz bar