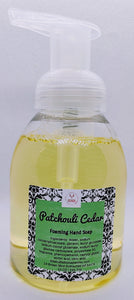 Patchouli Cedar Foaming Handsoap
Patchouli Cedarwood is a rich and earthy fragrance that combines the warm, musky aroma of patchouli with the woody, grounding scent of cedarwood. The patchouli provides a deep and sensual note, while the cedarwood adds a touch of natural freshness that brings a sense of stability and balance. This scent is perfect for those who enjoy warm and grounding fragrances and are looking for something that is both calming and grounding.
Triclosan Free
Sulfate Free
Paraben Free
Vegerarian - Plant Based
Loads of bubbles and not so bad for you as other cheap junk on the market!
Try our premium quality, plant-based scented foaming hand soap today.  We have formulated each of our premium foaming soaps with a plant-based soap system and some of our great fragrances to smell as good as they look and feel.  Each of our foaming hand soaps are highly fragrant, triclosan free, cruelty free, paraben free and sulfate free.  
Ingredients:
Water, sodium cocoamphoacetate, glycerin, lauryl glucoside, sodium cocoyl glutamate, sodium lauryl glucose carboxylate, polysorbate 20, fragrance, phenoxyethanol, caprylyl glycol, sorbic acid, citric acid.