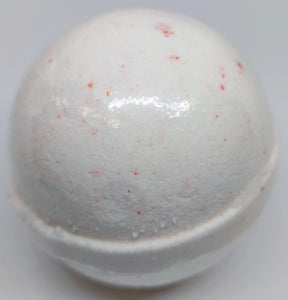 Candy Cane Bath Bomb
Indulge in the delightful and refreshing aroma of peppermint with our candy cane bath bomb. Made with high-quality ingredients, this bath bomb is the perfect addition to your self-care routine.
As soon as you drop it into your bath, you'll be enveloped in a sweet and invigorating peppermint fragrance. It will create a fizzy, effervescent sensation as it dissolves, releasing skin-nourishing ingredients to leave your skin feeling soft and smooth.
Our candy cane bath bomb is perfect for anyone who wants to add a touch of luxury to their bathing experience. Its festive and playful design makes it an excellent choice for the holiday season, but it's perfect all year round. So treat yourself or give it as a thoughtful gift to someone special.
With its sweet peppermint candy cane fragrance, this bath bomb is sure to leave you feeling refreshed, rejuvenated, and ready to take on the day. So go ahead and indulge in a little sweetness with our candy cane bath bomb.
Our bath bombs are about the size of a tennis ball and give you loads of fizz and a nice scent so good you won't want to get out of the tub until the water turns icy-cold!
Ingredients: 
Sodium Bicarbonate (Baking Soda)
Citric Acid
Fragrance Oil
Sunflower Oil
FD&C Colorant
Cosmetic Glitter