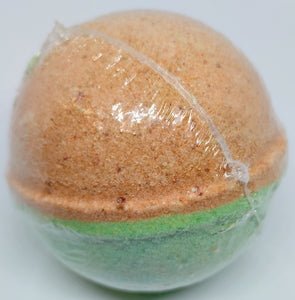 Chocolate Mint Bath Bomb
Indulge in the decadent and refreshing scent of our Chocolate Mint bath bomb. This luxurious bath bomb is made with the finest ingredients, including the best chocolate fragrance and natural peppermint oil, to create a truly heavenly experience.
As soon as the bath bomb begins to dissolve in your bathwater, you'll be transported to a world of sweet indulgence and soothing relaxation. The chocolate fragrance will envelop you, while the natural peppermint oil will invigorate your senses and leave your skin feeling cool and refreshed.
The Chocolate Mint bath bomb is perfect for anyone who loves the combination of chocolate and mint. Whether you're looking for a luxurious self-care experience or a unique gift for someone special, this bath bomb is sure to delight. 
So why not treat yourself to the ultimate indulgence with our Chocolate Mint bath bomb? It's the perfect way to unwind after a long day and give your skin the nourishing care it deserves.
Our bath bombs are about the size of a tennis ball and give you loads of fizz and a nice scent so good you won't want to get out of the tub until the water turns icy-cold!
Ingredients: 
Sodium Bicarbonate (Baking Soda)
Citric Acid
Fragrance Oil
Sunflower Oil
FD&C Colorant
Cosmetic Glitter
4.5oz