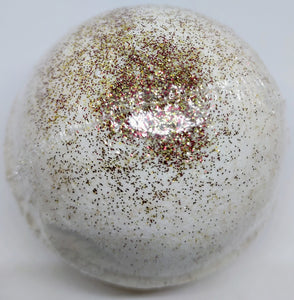 Cinn Bun Bun Bath Bomb
Introducing our latest bath bomb creation, the Cinnamon Bun Bath Bomb! Indulge in the sweet and spicy aroma of freshly baked cinnamon buns as you soak in a warm bath.
Made with high-quality ingredients, this bath bomb will transform your ordinary bath into a luxurious spa-like experience. Watch as the water turns a warm amber color and enjoy the relaxing and comforting scent that fills the air.
Not only does this bath bomb smell amazing, but it also contains skin-nourishing ingredients like shea butter and coconut oil. These ingredients work together to moisturize and soften your skin, leaving it feeling smooth and silky.
This Cinnamon Bun Bath Bomb is perfect for those who love warm and cozy scents, and want to pamper themselves with a little self-care. Treat yourself or surprise someone special with this delightful bath bomb. So go ahead, indulge in the scent of fresh cinnamon buns and let your worries melt away with every soak.
Our bath bombs are about the size of a tennis ball and give you loads of fizz and a nice scent so good you won't want to get out of the tub until the water turns icy-cold!
Ingredients: 
Sodium Bicarbonate (Baking Soda)
Citric Acid
Fragrance Oil
Sunflower Oil
FD&C Colorant
Cosmetic Glitter
4.5oz