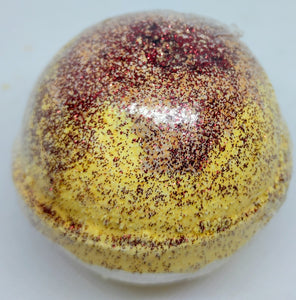 Pina Colada Bath Bomb
Transport yourself to a tropical paradise with our handmade Pina Colada Bath Bomb!
Crafted with high-quality ingredients and infused with the sweet and fruity aroma of pineapple and coconut, this bath bomb will leave you feeling relaxed, refreshed, and like you're lounging on a beach with a refreshing cocktail in hand.
Simply drop the Pina Colada Bath Bomb into your tub and watch as it fizzes and releases a burst of color and fragrance. 
Our bath bomb is the perfect way to unwind after a long day or to treat yourself to a luxurious spa-like experience. It's also a unique and thoughtful gift that is perfect for anyone who loves a good tropical escape.
Each Pina Colada Bath Bomb is handmade with care, ensuring that every one is unique and special. It's the perfect way to indulge in some self-care and pampering, and to enjoy the relaxing and refreshing benefits of a tropical getaway in the comfort of your own home.
Experience the sweet and tropical scent of our handmade Pina Colada Bath Bomb today, and let your worries melt away as you indulge in a luxurious and refreshing spa-like experience.
Our bath bombs are about the size of a tennis ball and give you loads of fizz and a nice scent so good you won't want to get out of the tub until the water turns icy-cold!
Ingredients: 
Sodium Bicarbonate (Baking Soda)
Citric Acid
Fragrance Oil
Sunflower Oil
FD&C Colorant
Cosmetic Glitter
4.5oz