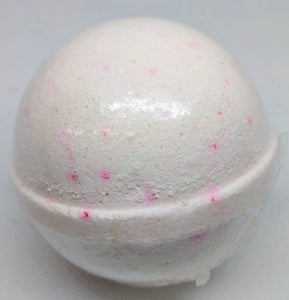 Plumeria Bath Bomb
Introducing Plumeria, the handmade bath bomb that will take your self-care routine to the next level. Infused with the perfect blend of jasmine, lily, rose, and lilac scents, this bath bomb creates an enchanting floral aroma that is sure to uplift your mood and soothe your senses.
But that's not all - Plumeria also features subtle fruity undertones that add an extra layer of freshness and sweetness to the overall scent. Whether you prefer a relaxing soak after a long day or want to pamper yourself on a lazy weekend, Plumeria is the perfect addition to your bath time ritual.
Handmade with love and care, this bath bomb is made from high-quality ingredients that are gentle on your skin, leaving it soft, supple, and moisturized. Plus, it is universally loved, making it an excellent gift for your loved ones or a delightful addition to your own bath bomb collection.
Indulge in the luxury of Plumeria and feel the stresses of the day melt away. Order yours today and experience the ultimate in relaxation and self-care!
Our bath bombs are about the size of a tennis ball and give you loads of fizz and a nice scent so good you won't want to get out of the tub until the water turns icy-cold!
Ingredients: 
Sodium Bicarbonate (Baking Soda)
Citric Acid
Fragrance Oil
Sunflower Oil
FD&C Colorant
Cosmetic Glitter
4.5oz