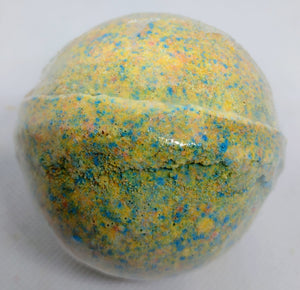 Tie Dye Bath Bomb
Introducing our handmade patchouli bath bomb, Tie Dye, a luxurious and unique creation that will take your senses on a journey of warm and earthy fragrance! Our bath bomb is lovingly crafted to emit a delightful scent of natural patchouli oil, combined with musky undertones, for a rich and warm aroma that will soothe your soul. Hippie souls rejoice!
As you drop the Tie Dye bath bomb into your tub, you'll notice a burst of vibrant colors and swirling patterns, creating a mesmerizing display. The fizzing action releases the warm and earthy scent, enveloping your senses in a calming and relaxing fragrance that soothes and comforts.
Tie Dye bath bomb is perfect for anyone who loves the warm and earthy aroma of patchouli oil, combined with musky undertones, creating a unique and relaxing experience. It's an ideal gift for yourself or your loved ones who enjoy a luxurious and comforting bath time.
Each bath bomb is handmade with care, making them unique and extra special. So indulge in the warm and earthy aroma of Tie Dye bath bomb, and let your senses take you on a journey of relaxation, rejuvenation & PEACE.
Our bath bombs are about the size of a tennis ball and give you loads of fizz and a nice scent so good you won't want to get out of the tub until the water turns icy-cold!
Ingredients: 
Sodium Bicarbonate (Baking Soda)
Citric Acid
Fragrance Oil
Sunflower Oil
FD&C Colorant
4.5oz