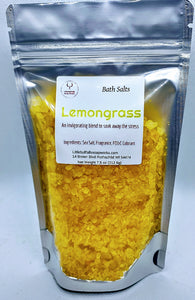 Lemongrass Bath Salts
Triple Scented Soaking Bath Salts
Cheery Lemon! Our blend of sweet lemon and natural lemon oil - this is just bursting with lemony goodness!
Bath salts are great for soaking in a hot tub. If you don't have a tub…that's OK because bath salts make a GREAT foot soak for tired feet! Bath salts make a great gift – especially for someone who has a very stress-filled life, or are on their feet a lot. Our bath salts are triple-scented. No cheap 2nd rate salt for us…this is 100% PURE sea salt.

I am guessing you are curious about what the benefits of a sea salt bath are? Sea salt is hailed for its health-enhancing minerals & its therapeutic properties. Adding a little sea salt to the bath (or to a foot soak) is said to stimulate circulation, ease muscle cramps, help relieve stiffness in joints, aid with arthritis and back pain, and soothe overworked legs & feet! These make a great gift too! At under $10 you really cannot go wrong!
Ingredients: Sea Salt, FD&C Colorant, Fragrance
Size: 7.5oz (212.6g)