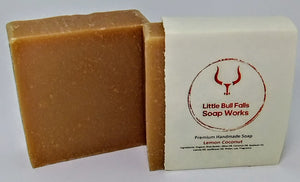 Lemon Coconut - Palm Free Vegan Soap
Our line of square bars are all vegan soaps. They are also palm oil free soaps.
Fresh, ripe lemons mixed with the distinctive scent of tropical coconuts!

Ingredients: organic shea butter, olive oil, coconut oil, soybean oil, canola oil, sunflower oil, water, sodium hydroxide, ground oatmeal, fragrance.