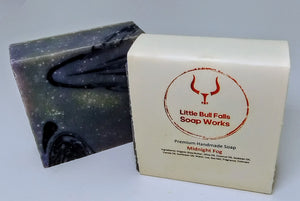 Midnight Fog - Palm Free Vegan Soap
Our line of square bars are all vegan soaps. They are also palm oil free soaps.
The fresh clean scent of fresh clean linen with a touch of sweet Violet and a hint of Sweet aloe. A small amount of activated charcoal to effectively remove impurities and deep clean the skin. This is a unisex fragrance that smells so fresh!
Ingredients: organic shea butter, olive oil, coconut oil, soybean oil, canola oil, sunflower oil, water, sodium hydroxide, ground oatmeal, poppy seeds, fragrance.