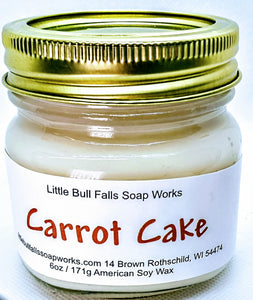 Carrot Cake Soy Wax Mason Jar Candle
Our soy wax candles, are hand poured in Wisconsin. We use real ingredients in our candles - fragrance oils infused with essential oils, and high quality cotton wicks
Smells like the real deal! Fresh carrot cake with cream cheese frosting. You can smell the vanilla, the nutmeg, the cream cheese...spicy, sweet, and wonderful!
What do we mean when we say "hand-poured"? It means that we make candles the old-fashioned way. We take the time and care with our own two hands. Everything at Little Bull Falls Soap Works is done by hand - from the wicking to the pouring to the labeling of your candle.
Our 8oz jars are a soy wax made from soybeans grown in the United States, and burn for 35 hours. We use the same high-quality perfume oils & essential oils and NOT the cheap stuff. Your candles will be paraben free, just like our soaps.