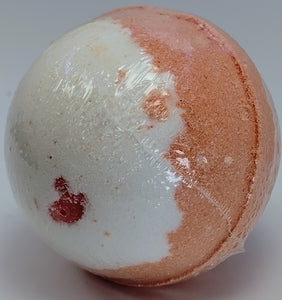 Apple Picking Bath Bomb
Introducing the Apple Picking Bath Bomb, the perfect way to indulge in the scent of freshly picked apples and unwind after a long day. The crisp and invigorating fruity tones will transport you to an apple orchard on a beautiful autumn day, providing a relaxing and refreshing experience for both your body and mind.
As you drop the Apple Picking Bath Bomb into your tub, watch as it fizzes and releases its delightful aroma, creating a therapeutic and calming atmosphere. The nourishing ingredients in the bath bomb will leave your skin feeling soft, hydrated and refreshed, making it the perfect way to pamper yourself after a hard day.
With its delightful fruity fragrance, the Apple Picking Bath Bomb is perfect for autumn and will instantly uplift your spirits. It's the perfect gift for anyone who loves the crisp and refreshing scent of apples, or anyone who deserves a little pampering.
Experience the refreshing scent of an apple orchard in the comfort of your own bathroom with the Apple Picking Bath Bomb. Order yours today and take the first step to a rejuvenating and relaxing bath experience.
Our bath bombs are made with high-quality ingredients, including Sodium Bicarbonate, Citric Acid, Fragrance Oil, Sunflower Oil, FD&C Colorant, and Cosmetic Glitter. These ingredients work together to provide a luxurious and relaxing bath experience.