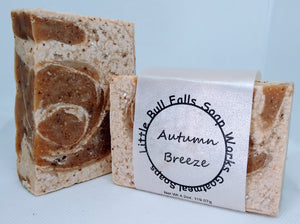 Autumn Breeze Goat Milk Soap
 We specialize in goat soaps - goat milk soaps that is!
Indulge in the warm and inviting scents of Autumn with our Goat Milk Oatmeal Soap. With top notes of fresh breezes, orchid, and ylang-ylang, and a base of sandalwood, patchouli and freshly fallen leaves, this soap will transport you to a woodsy and earthy aroma that invokes warmth in the heart.
Our soap is made with only the best ingredients, like food-grade organic oils and butters, skin-softening and nourishing goat milk, and skin-soothing and exfoliating oatmeal. Each bar is hand-poured in small batches to ensure freshness and quality. Perfect for dry or sensitive skin, our soap is fully cured for long-lasting use.
Our ingredients include: Organic olive oil, goat milk, organic coconut oil, organic and sustainable palm oil, sodium hydroxide, oatmeal, mineral pigments, cosmetic mica, and fragrance.
Each bar is packaged in a bridal-quality platinum vellum cigar band and we strive to be environmentally conscious by eliminating as much waste and plastic as possible. Each bar is 4oz.
Note that because our soap is handmade, the appearance may vary, but that is the fun of it. You never know what it will look like until you cut it!