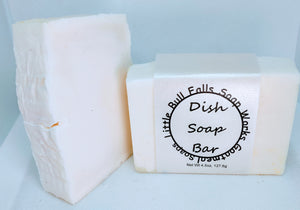 Bar Dish Soap
Meet your new favorite dish soap! This dosh soap is non- toxic, long lasting & super powerful! Our solid dish soap bar is going to be a gamechanger for you. This bar will last as ling as 2-3 bottles of dish soap depending on how you use & store it. This will save you money and keep toxins off your dishes & out of your kitchen.
This eco-friendly bar dish soap cuts thru grease & grime with ease! Try it for yourself!
Add one of our wooden soap dishes to make it last a long, long time! It keeps it from getting mushy & wasting extra product!
To use: remove loose food pieces from dishes, wet a dish brush or sponge & rub it on the surface of the dish soap bar to create a lather. Apply the brush/ sponge to dishes and scrub them clean. Rinse dish under warm water...ta daaa!
Ingredients: Organic coconut oil, distilled water, sodium hydroxide.
4oz bar