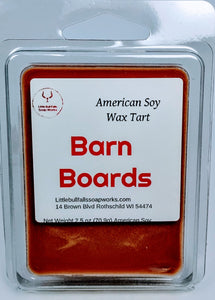 Barn Boards Wax Soy Melt
Introduce a warm and inviting atmosphere to your home with our soy wax melts. Made from soy wax sourced from soybeans grown in the Midwest of the United States, our melts are a natural and eco-friendly alternative to traditional paraffin wax. These melts are specially formulated to release a subtle and soothing fragrance throughout your home, providing a cozy and inviting ambiance. Simply place one or two wax melts in your wax warmer, and let the fragrance fill your space. Whether you're looking to create a relaxing atmosphere in your living room, or want to add a pleasant aroma to your bedroom, our wax melts are a perfect choice. Experience the same quality and fragrance as our candles in a convenient and easy-to-use wax melt form.
Experience the ultimate outdoor freshness with our unisex scent. This rustic creation features a warm and inviting blend of fresh cedarwood with spicy undertones. The earthy tones of patchouli and a touch of rich leather add a touch of country charm. The scent is sweetened by exotic amber and soft mosses at the base, while clean musk surrounds the woody aroma. One of our favorites, it's perfect for those who love a clean, fresh and outdoorsy scent. Another unique wax melt from a Wisconsin candle co!
2.5oz of  soy wax in a clamshell made in Wisconsin. These can be used in both electric & tea-light wax melters.