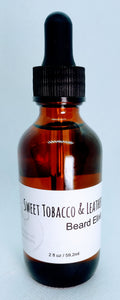 Beard Elixir Sweet Tobacco & Leather
Smells like a studly cowboy! This is a great man scent, plus it leaves your beard soft and moisturized. No more scratchy beard or dandruff! This stuff even works great on dry spots on your face & the ends of your hair.
Ingredients aid in growing a luscious full beard!
Put a couple drops on the palm of your hand, rub your hands together and smooth over your beard. Apply more as needed.
Ingredients: sweet almond oil, jojoba oil, argan oil, fragrance.