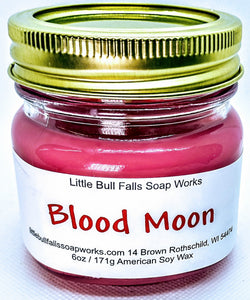 Blood Moon Soy Wax Mason Jar Candle
Our small-batch soy wax candles are handcrafted in Wisconsin using real ingredients such as fragrance oils infused with essential oils and premium cotton wicks. The scent features a fruity strawberry top note, complemented by citrus and jasmine, with sweet raspberry and plum bottom notes. It is similar to the scent of "Vampire Blood" from BBW.
Little Bull Falls Soap Works' hand-poured candles are crafted with care and attention to detail using the traditional method. Each candle is made by hand, from the wicking to the pouring to the labeling, ensuring that each candle is a unique and perfect representation of our commitment to quality.
 Our 6oz non-toxic candles are made from soy wax derived from soybeans grown in the United States, providing a long-lasting and relaxing ambiance with a burn time of 35 hours. We only use premium perfume oils and essential oils, ensuring that your candles are free of parabens and other cheap fillers, just like our soaps. Experience the true essence of luxury and relaxation with Little Bull Falls Soap Works' hand-poured candles.