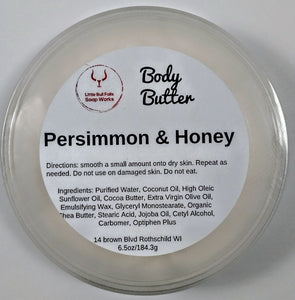 Persimmon & Honey Body Butter
Indulge in luxurious hydration with our Persimmon Honey Body Butter. Infused with the sweet nectar of persimmons and nourishing honey, this rich and creamy butter deeply moisturizes and softens your skin. Its non-greasy formula absorbs quickly, leaving a silky smooth finish that lasts all day. Perfect for dry or rough skin, this body butter is a must-have for anyone looking for a hydrating and indulgent skincare experience. So go ahead, treat yourself to a little slice of heaven in a jar!
Turn your skin from dry & itchy to soft & smooth! Our handmade body butter is rich and highly moisturizing! 6.5oz net weight in recyclable containers.
ingredients:
Purified Water
Coconut Oil
High Oleic Sunflower Oil
Cocoa Butter
Extra Virgin Olive Oil
Emulsifying Wax
Glyceryl Monostearate
Organic Shea Butter
Stearic Acid
Jojoba Oil
Cetyl Alcohol
Carbomer
Optiphen Plus