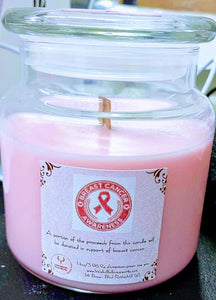 Breast Cancer Awareness Soy Wax Candle Wood Wick
A good friend of mine recently cancelled her biopsy on the lump she found because of lack of insurance & now lackluster insurance. My mom died from cancer so this really hits home for me. No one should have to choose treatment or basic necessities.
This is my way of helping --- $5 of the proceeds from this candle will go into a fund to help those fighting breast cancer. Please support this cause and purchase this awesome candle.
These are the best crackling wood wicks I have done yet. This is 14 ounces of American grown soy wax. The scent is wonderful! A relaxing but upbeat blend of pretty notes of pink jasmine, pineapple nectar, green apple and honeydew melon.