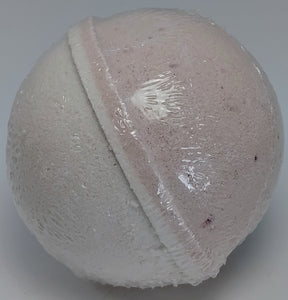 Coconut Bath Bomb
Introducing our Coconut Bath Bomb, the ultimate indulgence for a relaxing and rejuvenating bathing experience! Made with premium quality ingredients, our bath bomb is designed to provide a luxurious and nourishing soak that will leave your skin feeling soft and moisturized.
Our Coconut Bath Bomb is infused with the tropical fragrance of coconut, which will transport you to a paradise island and help you unwind after a long day. The scent of coconut will fill your bathroom and create a calming atmosphere, promoting relaxation and reducing stress.
The bath bomb is enriched with coconut oil, which is known for its hydrating and nourishing properties. It will deeply moisturize your skin, leaving it feeling soft and silky smooth. 
Our Coconut Bath Bomb is easy to use, simply drop it into your bath and watch as it fizzes and dissolves, releasing its tropical aroma and skin-loving ingredients. It is gentle on the skin and suitable for all skin types, making it the perfect addition to your self-care routine.
Treat yourself to the ultimate indulgence with our Coconut Bath Bomb, and enjoy a luxurious and relaxing bath that will leave you feeling refreshed and revitalized.
Our bath bombs are made with high-quality ingredients, including Sodium Bicarbonate, Citric Acid, Fragrance Oil, Sunflower Oil, FD&C Colorant, and Cosmetic Glitter. These ingredients work together to provide a luxurious and relaxing bath experience.
4.5oz