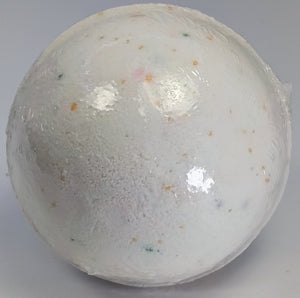 Confetti Bath Bomb
Introducing our Confetti Bath Bomb - the perfect way to add a pop of fun and fragrance to your bath time routine! This bath bomb is infused with the fresh scent of ripening oranges, which is perfectly paired with light, flowery blossoms for a delightful and invigorating experience.
As soon as you drop this bath bomb into your tub, it will fizz and release a burst of colorful confetti, transforming your bathwater into a playful and vibrant oasis. The Confetti Bath Bomb is made with all-natural ingredients to leave your skin feeling soft, smooth, and moisturized.
Not only does the Confetti Bath Bomb provide a luxurious and aromatic bathing experience, it is also vegan and cruelty-free, making it an eco-conscious and ethical choice for your self-care routine. So, indulge in a spa-like experience at home and elevate your bath time with our Confetti Bath Bomb today!
Our bath bombs are made with high-quality ingredients, including Sodium Bicarbonate, Citric Acid, Fragrance Oil, Sunflower Oil, FD&C Colorant, and Cosmetic Glitter. These ingredients work together to provide a luxurious and relaxing bath experience.
4.5oz