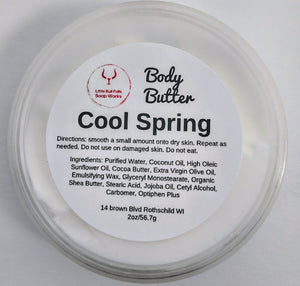 Cool Spring Mini Body Butter
Cool Spring Body Butter is a refreshing and rejuvenating cream that will leave your skin feeling soft, smooth, and hydrated. Infused with the crisp and invigorating scent of a cool spring day, this body butter will awaken your senses and leave you feeling refreshed. The blend of nourishing ingredients, including shea butter, jojoba oil, and cocoa butter, will provide your skin with deep hydration and protection, helping to restore its natural radiance. With a non-greasy formula that absorbs quickly, this body butter is perfect for all skin types and will leave you feeling revitalized and rejuvenated. Experience the freshness of a cool spring day with Cool Spring Body Butter.
Turn your skin from dry & itchy to soft & smooth! Our handmade body butter is rich and highly moisturizing! 6.5oz net weight in recyclable containers.
ingredients:
Purified Water
Coconut Oil
High Oleic Sunflower Oil
Cocoa Butter
Extra Virgin Olive Oil
Emulsifying Wax
Glyceryl Monostearate
Organic Shea Butter
Stearic Acid
Jojoba Oil
Cetyl Alcohol
Carbomer
Optiphen Plus