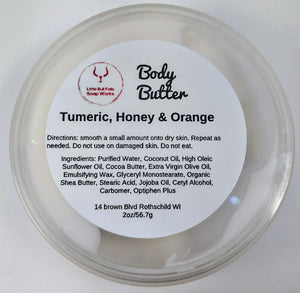 Turmeric Honey Orange Mini Body Butter
Turmeric may aid swelling. The scent is super great! I smell all 3 equally and it is a light intoxicating scent.
Turn your skin from dry & itchy to soft & smooth! Our handmade body butter is rich and highly moisturizing! 2oz net weight in recyclable containers.
ingredients:
Purified Water
Coconut Oil
High Oleic Sunflower Oil
Cocoa Butter
Extra Virgin Olive Oil
Emulsifying Wax
Glyceryl Monostearate
Organic Shea Butter
Stearic Acid
Jojoba Oil
Cetyl Alcohol
Carbomer
Optiphen Plus