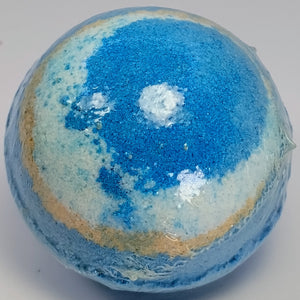 Dreamer Bath Bomb
Introducing Dreamer, the ultimate bath bomb for those seeking a dreamy and refreshing bath experience! With its light citrus scent, Dreamer bath bomb is the perfect choice to uplift your mood and invigorate your senses.
Dreamer bath bomb is meticulously crafted using high-quality, natural ingredients that are gentle on the skin, leaving it soft and supple. Once you drop it into your bathtub, it releases a fizzing sensation that transforms your bathwater into a colorful, effervescent oasis.
Indulge in the dreamy fragrance of this bath bomb and let your mind wander as the citrus scent gently envelops your senses. It's perfect for unwinding after a long day or to kickstart your morning on a positive note.
With its vibrant colors and refreshing fragrance, Dreamer bath bomb is an excellent addition to your self-care routine. It also makes for a thoughtful gift for anyone who could use a little relaxation and rejuvenation.
So, immerse yourself in the dreamy and refreshing experience of Dreamer bath bomb and let it transport you to a world of relaxation and rejuvenation.
Our bath bombs are made with high-quality ingredients, including Sodium Bicarbonate, Citric Acid, Fragrance Oil, Sunflower Oil, FD&C Colorant, and Cosmetic Glitter. These ingredients work together to provide a luxurious and relaxing bath experience.
4.5oz