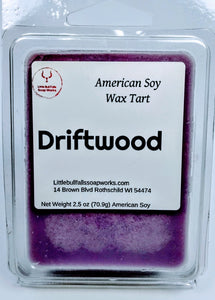 Driftwood Soy Wax Melt
We are not just a soap company - we are a Wisconsin candle co too! Like our candles, our wax melts are made from soy wax that is made from soybeans that are grown right here in the midwest of the United States.
It is a very UNISEX scent.  Very deep and rich and woody.  I really love the touches of spice that the Turmeric and Saffron add to the dark woody notes.  It makes it lighter without adding sweetness.  Just mesmerizing!!! This is my new favorite! This is a unique wax melt!