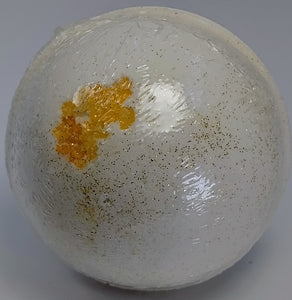 Elegance Bath Bomb
Introducing "Elegance" bath bomb, the perfect way to indulge in a luxurious and elegant bath experience. With the deliciously sweet and fruity scent of French pear, this bath bomb will transport you to the charming orchards of France.
Made with high-quality natural ingredients and free from harsh chemicals, this bath bomb is gentle on even the most sensitive skin types. Each Elegance bath bomb is carefully crafted by hand with care and attention to detail, ensuring a unique and invigorating bath experience every time.

With its sophisticated and alluring fragrance, Elegance bath bomb is the perfect addition to your self-care routine. Whether you want to unwind after a long day or indulge in a relaxing soak on a lazy Sunday afternoon, this bath bomb will help you create the perfect ambiance for a luxurious and rejuvenating bath experience. Treat yourself to the ultimate pampering session with Elegance bath bomb today!
Our bath bombs are made with high-quality ingredients, including Baking soda, citric acid, sunflower oil, organic shea butter, sea salt, fragrance, glitter, sprinkles
4.5oz