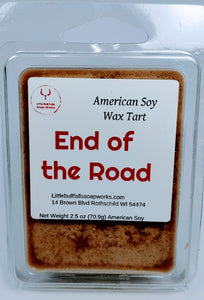 End of the Road Soy Wax Melt
Introduce a warm and inviting atmosphere to your home with our soy wax melts. Made from soy wax sourced from soybeans grown in the Midwest of the United States, our melts are a natural and eco-friendly alternative to traditional paraffin wax. These melts are specially formulated to release a subtle and soothing fragrance throughout your home, providing a cozy and inviting ambiance. Simply place one or two wax melts in your wax warmer, and let the fragrance fill your space. Whether you're looking to create a relaxing atmosphere in your living room, or want to add a pleasant aroma to your bedroom, our wax melts are a perfect choice. Experience the same quality and fragrance as our candles in a convenient and easy-to-use wax melt form.
Imagine a deeply healing mud wrap that uses the finest African clays. You can almost smell the activity of the jungle river. A deep, rich, earthy, animal scent with raw masculinity. Top notes galbanum, lavender, sage, cedar and patchouli.
2.5oz of soy wax in a clamshell. These can be used in both electric & tea-light wax melters.