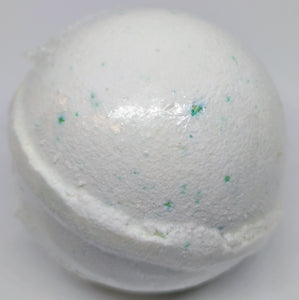 Eucalyptus Bath Bomb
Indulge in the soothing and refreshing aroma of eucalyptus with our premium Eucalyptus Bath Bomb. Made with natural ingredients, this bath bomb is a perfect addition to your relaxation routine.
As soon as the bath bomb dissolves in the water, you'll feel the gentle fizzing sensation and a burst of fragrance. The eucalyptus oil will provide a calming and therapeutic effect, helping you relieve stress and promote relaxation.
Perfect for unwinding after a long day, this bath bomb will create a luxurious spa experience right in the comfort of your own home. So, why not treat yourself to a relaxing bath with our Eucalyptus Bath Bomb today?
Great for colds, flus, and allergies!
Our bath bombs are about the size of a tennis ball and give you loads of fizz and a nice scent so good you won't want to get out of the tub until the water turns icy-cold!
Ingredients: 
Sodium Bicarbonate (Baking Soda)
Citric Acid
Fragrance Oil
Sunflower Oil
FD&C Colorant
Cosmetic Glitter
4.5oz