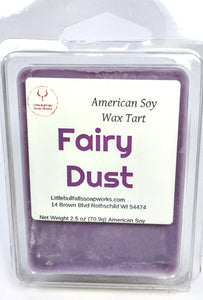 Fairy Dust Soy Wax Melt
This one is just MAGICAL! This is a unique wax melt. The unseen Fairies dance in the darkness, their bubbling flickers of light accompanied by an array of bright and invigorating scents. This fragrance boasts a citrus melody dominated by grapefruit, complemented by juicy orange, tangy lemon, and zesty lime. The result is a tingly and lively scent, reminiscent of freshly sliced fruit.
Like our candles, our wax melts are made from soy wax that is made from soybeans that are grown right here in the midwest of the United States.
2.5oz of wax in a clamshell. These can be used in both electric & tea-light wax melters.