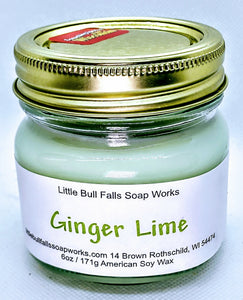 Ginger Lime Soy Wax Mason Jar Candle
A ginger lime soy wax candle is a candle made with soy wax and infused with a bright and refreshing fragrance blend. The scent combines the warm, spicy notes of ginger with the tangy and zesty aroma of fresh limes, creating a harmonious balance of flavors. The use of soy wax, a renewable and eco-friendly resource, makes this candle a good choice for those who care about the environment and want a candle that burns cleanly and lasts longer than traditional candles. Whether you're looking to invigorate your senses or simply enjoy the fresh and vibrant scent of ginger and lime, this candle is sure to delight. Light the candle and allow the bright and invigorating aroma to fill your home, lifting your spirits and bringing a touch of joy to your day.
Little Bull Falls Soap Works' hand-poured candles are crafted with care and attention to detail using the traditional method. Each candle is made by hand, from the wicking to the pouring to the labeling, ensuring that each candle is a unique and perfect representation of our commitment to quality.
Our 6oz candles are made from soy wax derived from soybeans grown in the United States, providing a long-lasting and relaxing ambiance with a burn time of 35 hours. We only use premium perfume oils and essential oils, ensuring that your candles are free of parabens and other cheap fillers, just like our soaps. Experience the true essence of luxury and relaxation with Little Bull Falls Soap Works' hand-poured candles.