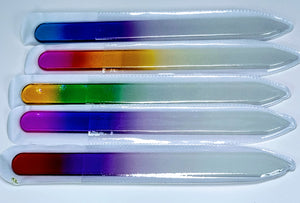 Glass Nail File

The long lasting crystal nail file is for use on the nails.
The fine grit surface of the glass nail file makes a gentle, buttery filling on nails & allows precision filing so you can expertly shape nails for professional results. It even pushes back cuticles with the gentle edge.

Specifications
Material: Crystal glass
Size: 5.5 x 0.43 inches (L x W)


Features & details
SAFTEY NAIL CARE: The double sided smooth filing surface of the glass nail file completes any manicure in any direction without damaging the nail.

EXCELLENT GLASS: These crystal nail files are made of high quality tempered glass. The glass is strong, wear-resistant & retains the integrity of the filing surface after multiple uses.

REUSABLE & WASHABLE: Hygienic non-porous glass surface is not easy to get dirty, and they can be cleaned with water and used repeatedly.

EASY TO CARRY: These glass nail files can fit into your purse or handbag easily for daily travel.