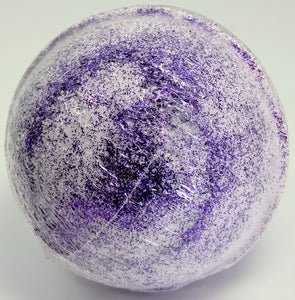 Jasmine Bath Bomb
Introducing our new Jasmine Bath Bomb, the perfect way to unwind and indulge in a luxurious bath experience. Infused with the sweet and floral scent of jasmine, this bath bomb will transport you to a serene and tranquil garden oasis, leaving you feeling relaxed and rejuvenated.
As the bath bomb dissolves in water, it releases a beautiful swirl of colors and scents, creating a calming and aromatic atmosphere that soothes your senses.
In addition to its heavenly scent and moisturizing benefits, our Jasmine Bath Bomb is the perfect way to pamper yourself after a long day or to enhance your self-care routine.
Our Jasmine Bath Bomb is cruelty-free, vegan, and free of harsh chemicals, making it safe and gentle for all skin types. Each bath bomb comes individually wrapped, making it a perfect gift for yourself or a loved one.
Experience the magic of our Jasmine Bath Bomb and transform your bath into a luxurious spa-like experience.
Our bath bombs are made with high-quality ingredients, including Sodium Bicarbonate, Citric Acid, Fragrance Oil, Sunflower Oil, FD&C Colorant, and Cosmetic Glitter. These ingredients work together to provide a luxurious and relaxing bath experience.
4.5oz