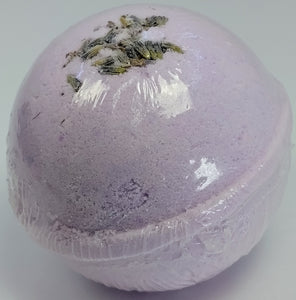 Lavender & Lace Bath Bomb
Introducing Lavender and Lace, the ultimate bath bomb for those who love the soothing scents of vanilla and lavender.
As soon as you drop this bath bomb into your tub, you'll be transported to a relaxing spa-like atmosphere. The warm water will release a subtle vanilla scent, while the refreshing aroma of lavender will fill the air around you. The combination of these two fragrances will help you unwind and destress after a long day.
Not only does Lavender and Lace smell amazing, but it also will moisturize and hydrate, leaving your skin feeling soft and silky smooth. The bath bomb also contains Epsom salt, which can help soothe sore muscles and alleviate tension.
Lavender and Lace is perfect for anyone who loves indulging in self-care and relaxation. It's the perfect addition to any bath routine, whether you're looking to unwind after a long day or just need some time to yourself. So treat yourself to the ultimate bath experience with Lavender and Lace!
Our bath bombs are made with high-quality ingredients, including Baking soda, citric acid, sunflower oil, organic shea butter, sea salt, fragrance, colorant, lavender buds.
4.5oz