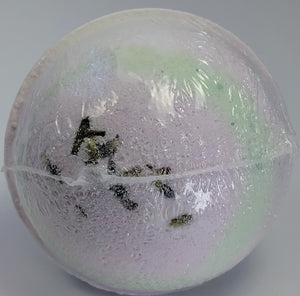 Lavender Sage Bath Bomb
Indulge in a soothing and relaxing bath experience with our Lavender Sage bath bomb. Made with premium quality ingredients, this bath bomb features a delightful blend of fragrant lavender and aromatic sage that work together to create a calming and rejuvenating effect on both the mind and body.
As soon as you drop this bath bomb into your tub, it starts to fizz and release its heavenly aroma, filling your bathroom with a calming scent that instantly transports you to a peaceful oasis. As you soak in the warm water, the natural oils and minerals in the bath bomb nourish your skin, leaving it soft and smooth to the touch.
This Lavender Sage bath bomb is perfect for those seeking a moment of relaxation after a long day or as a self-care treat to recharge and unwind. It is also ideal for those with sensitive skin.
Treat yourself or someone special to a luxurious and pampering bath experience with our Lavender Sage bath bomb.
Our bath bombs are made with high-quality ingredients, including Sodium Bicarbonate, Citric Acid, Fragrance Oil, Sunflower Oil, FD&C Colorant, and Cosmetic Glitter. These ingredients work together to provide a luxurious and relaxing bath experience.
4.5oz