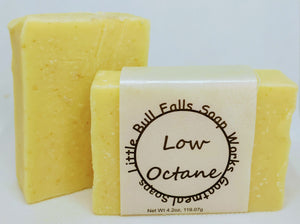 Low Octane Goat Milk Soap
Vrrroom! Have someone in your life who loves the smell of gasoline? Someone who likes things that are unique? Someone who has literally everything?Yes...this soap that smells like gasoline. Teen boys love this one too!
Great gift for the new driver! Great gift for father's day! Great gift for that car guy or gal!
Our famous goatmeal soap that is super gentle on skin
 There are so many soaps & body washes on the market – do you know what makes us special?
We only use food-grade organic oils & butters
Skin-softening & nourishing goat milk
Skin-soothing & exfoliating oatmeal
Hand poured in small batches
Fresh & wholesome ingredients
Fully cured soap = long-lasting
If you have dry or sensitive skin, you need to give us a try!
Ingredients: Organic olive oil, goat milk, organic coconut oil, organic & sustainable palm oil, sodium hydroxide, oatmeal, mineral pigments, cosmetic mica, fragrance.
Soap may or may not look exactly like the picture. Because of the handmade nature of my items – temperatures, moisture, colorants, etc all factor in to making the soap look a certain way. That is the fun part of this…you never really know what its going to look like until you cut it!
Packaging is in a bridal quality platinum vellum cigar band. We try to be environmentally conscious and eliminate as much waste & plastic as we can!
4oz bar