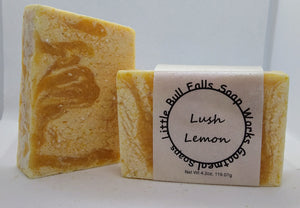 Lush Lemon Goat Milk Soap
Looking for a refreshing and invigorating soap that can leave you feeling bright and happy? Look no further than Lush Lemon!
Lush Lemon is the perfect soap for anyone who loves the fresh, crisp scent of lemon verbena. Here at Little Bull Falls Soap Works, we blended this delightful aroma with zesty layers of a citrus complex, including juicy hints of grapefruit and orange. The result is a tantalizingly tart fragrance that is sure to put a smile on your face.
Our goat milk is sourced from local farms and is rich in vitamins and minerals that are essential for healthy skin. When combined with our carefully selected blend of essential oils and natural ingredients, it creates a soap that is gentle, nourishing, and deeply cleansing.
One of the key benefits of goat milk soap is its ability to moisturize and soothe the skin. This is especially important for those with dry, sensitive, or eczema-prone skin. Goat milk contains natural alpha-hydroxy acids (AHAs) that help to exfoliate the skin, removing dead skin cells and revealing a smoother, brighter complexion.
In addition to its skin-loving properties, Lush Lemon is also a joy to use. Its medium fragrance strength is just enough to delight the senses without overwhelming them. It's perfect for use in the shower, bath, or even as a hand soap.
So if you're looking for a soap that will leave you feeling bright and happy, look no further than Lush Lemon. With its fresh, citrusy fragrance and nourishing properties, it's sure to become a staple in your natural skincare routine. Try it today and experience the difference that goat milk soap can make!
 There are so many soaps & body washes on the market – do you know what makes us special?
We only use food-grade organic oils & butters
Skin-softening & nourishing goat milk
Skin-soothing & exfoliating oatmeal
Hand poured in small batches
Fresh & wholesome ingredients
Fully cured soap = long-lasting
Handmade in Wisconsin
If you have dry or sensitive skin, you need to give us a try!
Ingredients: Organic olive oil, goat milk, organic coconut oil, organic & sustainable palm oil, sodium hydroxide, oatmeal, mineral pigments, cosmetic mica, fragrance.
Soap may or may not look exactly like the picture. Because of the handmade nature of my items – temperatures, moisture, colorants, etc all factor in to making the soap look a certain way. That is the fun part of this…you never really know what its going to look like until you cut it!
Packaging is in a bridal quality platinum vellum cigar band. We try to be environmentally conscious and eliminate as much waste & plastic as we can!
4oz bar
The Best Soap
I love your soaps. I have been using them for a few years. Just wonderful.