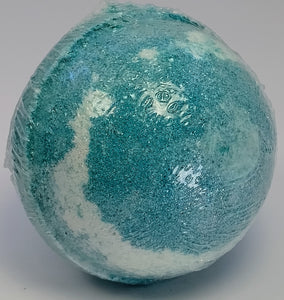 Mistletoe Bath Bomb
Get into the festive spirit with our Mistletoe Bath Bomb! This luxurious bath bomb features a delightful blend of scents that captures the essence of the holiday season. The notes of citrus, blue spruce, and cranberries come together to create a refreshing, yet soothing aroma that will take your bath time to the next level.
As soon as you drop the Mistletoe Bath Bomb into your tub, it will fizz and dissolve, releasing a burst of colors and fragrance. The bath bomb will help to hydrate and nourish your skin, leaving it feeling soft, smooth, and rejuvenated.
This bath bomb is perfect for anyone who wants to add a touch of holiday cheer to their bath time routine. It also makes a great gift for friends and family who love the festive scents of the season.
So, get ready to relax and unwind in a tub filled with the scents of the holidays with our Mistletoe Bath Bomb!
Our bath bombs are made with high-quality ingredients, including Sodium Bicarbonate, Citric Acid, Fragrance Oil, Sunflower Oil, FD&C Colorant, and Cosmetic Glitter. These ingredients work together to provide a luxurious and relaxing bath experience.