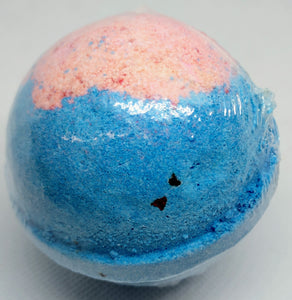 Moonlight Roses Bath Bomb
Indulge in the romantic and alluring scent of our Moonlight Roses Bath Bomb! This luxurious bath bomb features a delightful blend of fresh hydrangea flowers mixed with rose petal fragrance that will take your bath time to the next level.
As soon as you drop the Moonlight Roses Bath Bomb into your tub, it will fizz and dissolve, releasing a burst of colors and fragrance. The bath bomb contains real crushed flowers to add to the visual appeal.
This bath bomb is perfect for anyone who wants to add a touch of romance and elegance to their bath time routine. It also makes a great gift for friends and family who enjoy the subtle and sophisticated scents of fresh flowers.
So, treat yourself to a relaxing and rejuvenating bath time experience with our Moonlight Roses Bath Bomb, and immerse yourself in the delicate and enchanting scent of fresh hydrangea flowers and rose petals.
Our bath bombs are about the size of a tennis ball and give you loads of fizz and a nice scent so good you won't want to get out of the tub until the water turns icy-cold!
Ingredients: 
Sodium Bicarbonate (Baking Soda)
Citric Acid
Fragrance Oil
Sunflower Oil
FD&C Colorant
Cosmetic Glitter
4.5oz