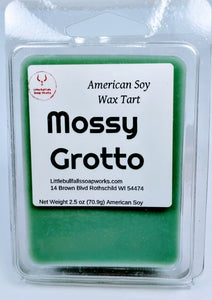 Mossy Grotto Soy Wax Melt
Like our candles, our wax melts are made from soy wax that is made from soybeans that are grown right here in the midwest of the United States.
An early morning treat. Walk in a marshy Northern Wisconsin forest and you will be treated to the unmistakable smell of a mixture of so many different plants and earthy smells. But my favorite time is right as the bunchberries are flowering. This is one elegant scent. There are so many different notes.
Blend of berries, green-floral fragrance, sandalwood and woody patchouli notes. There is also a sweet light powdery undertone.