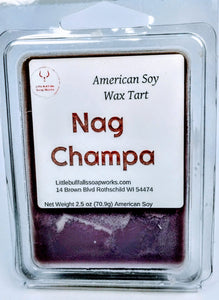 Nag Champa Soy Wax Melt
Like our candles, our wax melts are made from soy wax that is made from soybeans that are grown right here in the midwest of the United States.
Nag Champa wax melt is a type of scented wax that is infused with the fragrance of Nag Champa incense. Nag Champa is a traditional Indian fragrance made from a blend of frangipani and sandalwood essential oils.
The scent of Nag Champa is known for its ability to promote relaxation, reduce stress, and create a soothing atmosphere. The wax melt form of this fragrance allows for a long-lasting aroma, as the wax slowly releases its scent over time.
Nag Champa wax melts are often used in meditation or yoga practices, as well as for general relaxation and ambiance in the home. They can also be paired with other scents or essential oils to create a unique and personalized fragrance blend.