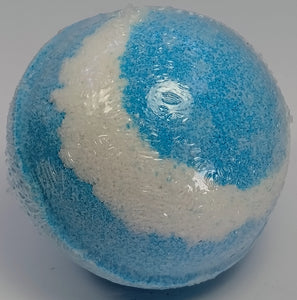 Neon Lights Bath Bomb
Introducing Neon Lights, the handmade bath bomb that will transform your bath time into a luxurious spa experience! Our unique blend of high-quality ingredients and refreshing aloe scent will leave you feeling relaxed and rejuvenated.
Each Neon Lights bath bomb is carefully crafted by hand using natural ingredients, including baking soda, citric acid, and moisturizing organic shea butter. 
But Neon Lights isn't just about the ingredients - it's also about the experience! As soon as you drop the bath bomb into your tub, it will begin to fizz and release a beautiful colors that will fill your bath with a mesmerizing glow. The fresh, clean scent of aloe will also fill the air, providing a calming and uplifting aroma that will help you unwind and destress.
Neon Lights bath bombs are perfect for anyone looking to add a little luxury to their bath time routine. They also make a great gift for birthdays, holidays, or any other special occasion. So why settle for a boring bath when you can experience the magic of Neon Lights? Try it today and elevate your self-care game to the next level!
Our bath bombs are made with high-quality ingredients, including Baking soda, citric acid, sunflower oil, organic shea butter, sea salt, fragrance, colorant, glitter. These ingredients work together to provide a luxurious and relaxing bath experience.
4.5oz