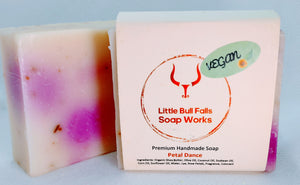 Petal Dance - Palm Free Vegan Soap
Our line of square bars are all vegan soaps. They are also palm oil free soaps.
Soft & sweet floral & one of my favorite scents! Designer style fragrance. Sweet perfume with musky undertones. 
Ingredients: organic shea butter, olive oil, coconut oil, soybean oil, canola oil, sunflower oil, water, sodium hydroxide, rose petals, fragrance.