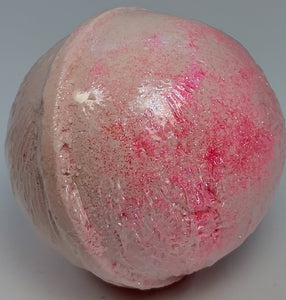 Pink Glitter Bath Bomb
Experience a sweet and magical bathing experience with our handmade Pink Glitter Bath Bomb!
Crafted with high-quality ingredients and infused with the delicious aroma of cotton candy, this bath bomb will leave you feeling uplifted, happy and smelling divine.
Simply drop the Pink Glitter Bath Bomb into your tub and watch as it fizzles and releases a burst of color, fragrance, and sparkling glitter. 
Our bath bomb is the perfect way to turn your ordinary bath time into an indulgent and luxurious spa-like experience. It's also a thoughtful and unique gift that is perfect for anyone who loves a touch of glamour and whimsy in their bathing routine.
Each Pink Glitter Bath Bomb is handmade with care, ensuring that every one is unique and special. It's the perfect way to add a touch of sparkle and magic to your bath time routine, and to treat yourself or a loved one to a sweet and uplifting experience.
Experience the sweet and magical aroma of our handmade Pink Glitter Bath Bomb today, and immerse yourself in a luxurious and indulgent bath time experience that will leave you feeling pampered and refreshed.
Our bath bombs are made with high-quality ingredients, including Sodium Bicarbonate, Citric Acid, Fragrance Oil, Sunflower Oil, FD&C Colorant, and Cosmetic Glitter. These ingredients work together to provide a luxurious and relaxing bath experience.
4.5oz