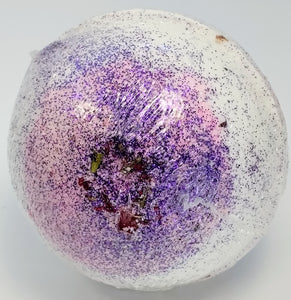 Raspberry Delight Bath Bomb
Indulge in the sweet and fruity scent of raspberries and blackberries with our handmade bath bomb, Raspberry Delight. This delightful bath bomb is crafted with the finest ingredients and designed to transform your bath into a luxurious and relaxing experience.
As soon as the Raspberry Delight bath bomb hits the water, it releases a burst of delightful fragrances that will envelop you in a cloud of fruity sweetness. The vibrant colors of the bath bomb will add an extra touch of beauty to your bath, while the fizzing action will create a mesmerizing effect.
Our Raspberry Delight bath bomb is handmade with care, using natural ingredients that are gentle on your skin. We do not use any harsh chemicals, so you can feel confident that you're treating your skin to the best possible experience.
Take a moment for yourself and let the delightful scent of Raspberry Delight transport you to a state of pure bliss. Perfect for a relaxing bath after a long day, or as a special treat for yourself or a loved one, this handmade bath bomb is sure to delight your senses and leave you feeling refreshed and rejuvenated.
Our bath bombs are made with high-quality ingredients, including Sodium Bicarbonate, Citric Acid, Fragrance Oil, Sunflower Oil, FD&C Colorant, and Cosmetic Glitter, Rose Petals. These ingredients work together to provide a luxurious and relaxing bath experience.
4.5oz