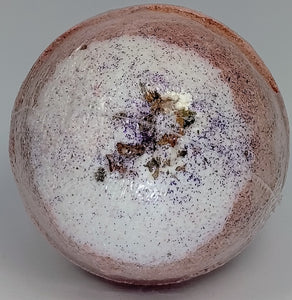 Rocky Rose Bath Bomb
Introducing Rocky Rose, the handmade bath bomb that offers a luxurious bath experience. This custom blend of rose, lavender, and musk creates a beautiful bouquet of floral notes with a subtle musky undertone, resulting in a sophisticated and elegant fragrance.
As you drop this bath bomb into your tub, it releases a fizzy explosion of fragrant essential oils that immediately transform your bathwater into a luxurious and indulgent soak. Its all-natural ingredients ensure that you are indulging in a chemical-free bath, which is suitable for all skin types.
Rocky Rose is perfect for those who love floral fragrances, as it envelops you in a stunning blend of rose and lavender scents. The musky undertone provides a unique touch of sophistication that elevates this bath bomb to a whole new level.
Each bath bomb is carefully handmade with love and care, ensuring that you receive a high-quality product that not only smells heavenly but also looks gorgeous.
Experience the luxury of Rocky Rose and indulge in a bath that is sure to leave you feeling relaxed, rejuvenated, and smelling heavenly.
Our bath bombs are made with high-quality ingredients, including Sodium Bicarbonate, Citric Acid, Fragrance Oil, Sunflower Oil, FD&C Colorant, rose petals, and Cosmetic Glitter. These ingredients work together to provide a luxurious and relaxing bath experience.
4.5oz