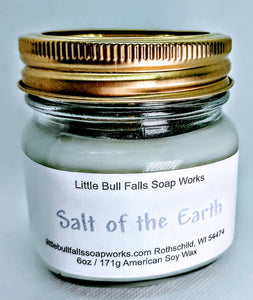 Salt of the Earth Soy Wax Mason Jar Candle
Our candles, are hand poured in Wisconsin. We use real ingredients in our candles - fragrance oils infused with essential oils, and high quality cotton wicks
A classic salty sea scent with a modern upscale makeover. Fresh & clean, beachy & salty. This smells like freedom!
Cardamom, orange peel, sea salt, light musk, & palm essence blend to create the light, airy smell of freedom!
What do we mean when we say "hand-poured"? It means that we make candles the old-fashioned way. We take the time and care with our own two hands. Everything at Little Bull Falls Soap Works is done by hand - from the wicking to the pouring to the labeling of your candle.
Our 8oz jars are a soy wax made from soybeans grown in the United States, and burn for 35 hours. We use the same high-quality perfume oils & essential oils and NOT the cheap stuff. Your candles will be paraben free, just like our soaps.